Ask Levi: Are There Any Caffeine-Free Energy Drinks?
Let's look at caffeine content in energy drinks today…
Hi Coach Levi,
How much caffiene is in the low cal berry FRS drink? Are there energy drinks on the market with no caffiene? Thanks so much for taking the time to answer!
Grace
Hi Grace,
A can of wild berry FRS will have 48mg caffeine while a cup you mix yourself (the powder) is 35 mg.
FRS has a fairly low caffeine content compared to other energy drinks, so it's not a bad choice, considering an actual energy drink without caffeine is hard to find…
But, there are a few to check out:
First, the ACT Energy Drink I have reviewed is said to be caffeine free, because it doesn't have any added caffeine. But it still uses guarana seed as a stimulant, and guarana contains naturally occurring caffeine.
For more information, take a look at this FRS vs ACT comparison.
Next up, there is actually a decaf version of 5 Hour Energy, which has a low 6mg caffeine. See the 5 Hour Energy decaf page for more info.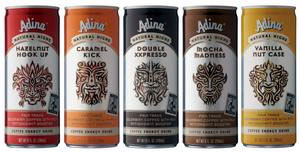 One of the more interesting choices is Adina Coffee Energy, which does not contain added caffeine, since it is based on coffee beans. Coffee beans are high in antioxidants and contain natural caffeine, so that's pretty cool.
[Update: Take a look at the Adina World beverage site for more info, if it still exists. It may have shut down.]
Next is the XS Energy Drink, which has a Tropical Blast flavor that is caffeine free. The energy boost comes from the "high powered adaptogenic herbs mixed with potent levels of B-vitamins and key amino acids," although it seems the caffeine-free version does away with most of the herbs.
See more at XSblast.com.
Another drink that looks like a typical energy drink is the E10 Energy Drink, but it's actually caffeine-free and contains a selection of vitamins and healthy nutrients to give you an energy boost.
Learn more at the E10 energy drink website. [Update: E10 has apparently shut down, too.]
Moving on, I'm pretty sure "Cranergy" from Ocean Spray is low in caffeine, only containing the natural caffeine from the added green tea. I don't know how much energy you could possibly get from green tea and cranberry juice (plus a few vitamins,) but if that's your thing, here is the Cranergy website.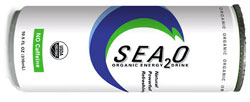 Finally, I'll end with a little-known drink called SEA2O that takes the organic/natural angle to energy drinks. The website says it is 100% organic, caffeine-free, and high in fiber and antioxidants.
(It's available at Amazon.com but you have to take the plunge and buy an entire case at once.)
And that is it! If anyone knows of more caffeine-free energy drinks, please list them below in the comments section.
Want CoachLevi.com updates?
Click here to get CoachLevi.com updates via email so that you don't miss any of these great cycling and fitness tips!
Like this article?
Want a body transformation like this?
Precision Nutrition's Lean Eating coaching program will open its doors for new members like you. We coach you for 12 months. You get in the best shape of your life or it's free.
Sign-up early and get $400 off.