I strive to be as honest and transparent as possible. Editorial content is not paid for, but I may earn a commission on products purchased through the links in this article. Learn more
here
.
What do guys wear to yoga?
I'm sure that question echoes through the minds of every man contemplating a yoga class.
Typical yoga clothes are worse for men than skin-tight lycra. We're used to dressing like fools on the bike, but not in a gym crowded with others! It's still sort of embarrassing for men to even show up to a yoga studio, let alone go shopping for "yoga pants" beforehand.
Yoga pants, shirts, and socks are definitely on the expensive side, too. So what is a guy to do when he wants to take his yoga to the next level but doesn't understand the point of yoga-specific clothing?
Read this guide, that's what! Continue reading to discover why yoga clothing makes a difference, what the popular choices are, and where you can get them.
Men's Yoga Pants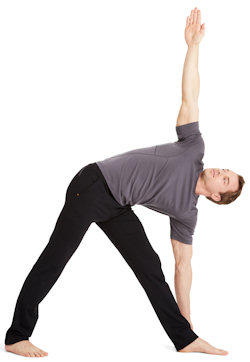 Right off the bat, let's talk about the most expensive item here – yoga pants. Let me be the first to admit that I initially wrote off yoga pants as not only a waste of money, but completely unnecessary regardless of price. Boy was I wrong!
As it turns out, a good pair of yoga pants allows you to move freely in all directions (without ripping or shifting around) and gives you a good grip (compared to sweaty skin) for certain poses (like tree and crow). Those poses are much easier to hold when you have some clothing providing friction, rather than sweaty skin on sweaty skin.
Yoga shorts are available, but I find yoga pants to be much more practical.
How to Choose Good Yoga Pants
As with most athletic wear, look for lightweight, moisture-wicking fabrics. Look for roughly an 80/20 ratio of cotton/spandex. You don't want pure spandex pants (think 80's aerobics videos), as they would be too slippery. Also, you don't want something that will tear in the crotch seams when you're totally stretched out!
Other good materials include hemp and bamboo. (Bonus points for being eco-friendly.)
The pants should be a loose fit and very stretchy, allowing you to move freely. You should be able to see your feet, and the pants should not drag on ground. Personally, I like 3/4 length knickers the best.
Lastly, pay attention if there is a drawstring waist, because the strings on some brands can cause discomfort while lying facedown.
Popular Choices
Look for well-known, established brands like prAna, lululemon, 4-rth, and Manduka. Here are three of the highest-rated yoga pants for men (available at Amazon.com):
Yoga Pant Alternatives
If you're not ready to spend $50-100 on yoga pants, here are some other options. You might even own these already!
Pajama pants
Performance-oriented long underwear
Climbing/bouldering pants
Scrubs
Sweatpants from Target
I have some pajama pants from Puma that look exactly like yoga pants, and I got them for $10! There are good alternatives if you look around, and sweatpants/joggers can be used as a last resort.
Men's Yoga Shirts
When it comes to shirts, I haven't found anything too special about yoga shirts. They all seem to be overpriced t-shirts and tank tops!
What To Look For
The ideal yoga shirt is made of a lightweight, sweat-wicking fabric to keep you comfortable. I don't worry too much about any particular material, but I try to avoid cotton for hot yoga classes where I'll sweat a lot.
Your shirt should also be fairly tight, not baggy. You don't want a shirt that rides up your back or drapes over your head during inversions.
Sleeveless shirts are the best because they allow full range of motion for your shoulders.
Popular Choices
You are welcome to stick with well-known yoga brands, but there are many good athletic brands that make quality shirts. Here are some good ones from top brands:
If those look like regular ole shirts that are expensive because they are yoga shirts, yeah, that's essentially what's going on.
The Alternatives
Just about any shirt will do, especially if you're just getting started. Here are some ideas:
Under Armour fitted shirts (not compression)
Tight base layers from your cycling/running collection
Soft cotton/bamboo t-shirts
If you're not familiar with the Under Armour line-up, they offer "fitted" shirts, which have a tight, non-baggy fit, but they're not compression garments. These are nice shirts, and you can usually find them on sale for less than the average compression shirt. Consider the Tech tee.
Another nice (and inexpensive) option is a plain cotton t-shirt. I especially like the ones from American Apparel. They're soft, and the sleeves move with your body. Cotton won't necessarily wick sweat very well, but I still love these t-shirts.
You can even find good shirts and tank tops at your local Gap or Old Navy.
If you look for earth tones – perhaps tan, olive, and burgundy – your not-so-yoga-specific clothes will still blend in!
Yoga Socks
Your last choice is – go in bare feet or yoga socks?
Both choices are typically acceptable. Most of the time, people go barefoot. However, depending on if you're using a public mat or your own, you might feel better if there's something covering your feet. Or, if your feet smell really bad, do everyone a favor and cover them up!
What Are Yoga Socks?
Yoga socks are socks with grip on the bottom. If you want to be absolutely sure you won't slip, or if you want to protect your feet from germs (especially if borrowing a yoga mat), yoga socks are a good idea.
The goal is to find a pair of socks that gives you traction against a sweaty yoga mat. Choose a comfortable pair of socks that provide some sort of rubber surface on the bottom.
Popular Socks
ToeSox are the highest-rated yoga socks and come in two different options – full coverage or half-toe.
These socks 1) provide grip and 2) still allow you to spread your toes out for balance.
The Alternatives
If ToeSox seem a little odd, you can just use some standard socks made for extra traction on hardwood floors. Or go barefoot.
Non-slip hospital socks
Go barefoot
Consider these Muezna socks made for yoga and barre classes or StopSocks, which are claimed to be the world's best grip socks.
Yoga Stores (And Alternative Shopping Ideas)
Some of the big brands, like lululemon, are now offering men's yoga clothes in their stores. The clothes are fantastic… and priced accordingly. But if you have the disposable income, go for it! It's becoming commonplace for guys to buy yoga and "athleisure" clothing.
Personally, if I was just getting started with yoga and wanted to save money, I'd check Marshall's, Ross, and TJ Maxx first. These stores usually have great items that can work well for yoga. I have yet to see the expensive yoga brands there, but what I have found is plenty good enough for me.
Then the two old standbys, Target and Old Navy. These stores have decent athletic apparel for both men and women at extremely low prices. It won't be the highest quality or offer out-of-this-world comfort, but it will be a great value.
If you're more picky, try your local REI to find great deals on quality, yoga-specific clothing.
Men, Get Some Yoga Pants!
At first glance, yoga clothing seems like no big deal. But if you're actually doing yoga on a daily basis, you see that good quality gear can be worth the price. Gym shorts and an old white t-shirt are not the ideal wardrobe!
So if you're doing yoga, take my advice for affordable, quality yoga apparel. With the proper attire, you'll enjoy yoga more and realize more of the stress-relief and flexibility benefits.
This article was originally published on June 20, 2012. It was last updated on February 20, 2019, a time when it was no longer embarrassing for men to buy or wear yoga clothes.
Levi Bloom is an experienced endurance athlete who has been training and competing for over 17 years. A former Cat 1 road and mountain bike racer (professional class on the regional circuit), he is now a cycling coach (USA Cycling Level 3 Certified) and sports nutrition coach (Precision Nutrition Level 1 Certified).