Let's look at caffeine content in energy drinks today. This was inspired by a reader who wrote in looking for caffeine-free energy drinks. We'll examine those and look for energy drinks that don't cause jitters.
In search of energy drinks without caffeine.
Hi Coach Levi,
How much caffiene is in the low cal berry FRS drink? Are there energy drinks on the market with no caffiene? Thanks so much for taking the time to answer!
Grace
Hi Grace,
A can of wild berry FRS will contain 48mg caffeine while a cup you mix yourself (the powder) contains 35mg.
That's pretty low. Even green tea can have 20-40 mg caffeine per cup.
FRS has an especially low caffeine content when compared to other energy drinks, so it's not a bad choice, considering an actual energy drink without caffeine is hard to find…
But, there are a few to check out. Some drinks are totally caffeine-free, some coffee- and tea-based drinks contain only natural caffeine, and others contain caffeine but also include ingredients that buffer the caffeine so you're less likely to get jitters or headaches if you're sensitive to caffeine.
We'll look at all the options.
The caffeine-free energy drinks.
Here are energy drinks that are either caffeine-free, low caffeine, or contain only natural caffeine.
XS Blast Energy Drink
SEA2O
ACT Energy
Cranergy
Decaf 5 Hour Energy
Though a rare species, there are a few of these out there!
XS Blast
First is XS Blast Energy Drink, which has Tropical Blast and Cranberry-Grape Blast flavors that are caffeine free. The energy boost comes from the "high powered adaptogenic herbs mixed with potent levels of B-vitamins and key amino acids," although it seems the caffeine-free version does away with most of the herbs, too.
See more at XSblast.com.
Decaf 5-Hour Energy
Even better, there is actually a decaf version of the popular 5 Hour Energy shot, which contains a very low 6mg caffeine. It might as well be 0. It's comparable to half a cup of decaf coffee. It still contains B vitamins and a wide variety of other substances, to provide an energy boost. See the 5 Hour Energy decaf page for more info.
E10
Finally, another drink that looks like a typical energy drink is the E10 Energy Drink, but it's actually caffeine-free and contains a selection of vitamins and healthy nutrients to give you an energy boost.
Unfortunately, E10 has shut down.
Sea2O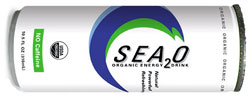 Then there's a little-known drink called SEA2O that takes the organic/natural angle to energy drinks. The website says it is 100% organic, caffeine-free, and high in fiber and antioxidants. But it's not something I'd even consider an energy drink. The only ingredient that will give you energy is the sugar!
Regardless, SEA2O has shut down, too.
The energy drinks containing only natural caffeine.
If you can handle caffeine, but prefer a more natural beverage.
ACT Energy
First, the ACT Energy Drink I reviewed many years ago is sometimes said to be caffeine free, because it doesn't have any added caffeine. But it still uses guarana seed as a stimulant, and guarana contains naturally occurring caffeine.
For more information, take a look at this FRS vs ACT comparison.
Adina Coffee Energy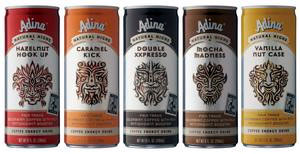 One of the more interesting choices I found was Adina Coffee Energy, which does not contain added caffeine, since it is based on coffee beans (which contain naturally-occurring caffeine). Coffee beans are high in antioxidants, too, so that's pretty cool. Of course, it's still going to be rather high in caffeine, like regular coffee.
What I liked was that it was a more natural alternative to the likes of Red Bull and Monster. Sadly, the Adina World beverage company has since shut down.
Cranergy
Another sort of natural option is "Cranergy" from Ocean Spray, which is low in caffeine, only containing the natural caffeine from the added green tea. I don't know how much energy you could possibly get from green tea and cranberry juice plus a few vitamins (maybe they add concentrated green tea?), but if that's your thing, you can probably find Cranergy at most grocery stores.
Drinks that don't give me caffeine jitters!
I'm fairly sensitive to caffeine – one cup of coffee is more than enough for me. So if a caffeine sensitivity is the issue, you might want to give this a shot.
It's called Wilderness Athlete Energy & Focus. It contains a solid 125 mg of caffeine, but the energy boost comes on gradually, giving me all-day energy without the jitters.
You could also forget energy drinks entirely.
Seriously. Most of the time, energy drinks are a crutch. The better idea is to solve the underlying cause of your low energy levels. It's actually quite simple if you follow these steps.
Alternatively, you can get a potent energy boost with greens! Eat your leafy greens, fresh veggies, and even seaweed, and you might notice a pleasant energy boost!
If you don't mind swallowing pills, try ENERGYbits. They are bits of seaweed, and they are energizing.
Even easier, mix up a glass of Greens Plus. This is a greens powder that won't taste anything like any energy drink out there, but the shock of a healthy drink can give your body a true energy boost! All without a drop of caffeine!
And that is it! If anyone knows of more caffeine-free energy drinks, please list them below in the
comments
section!
[Editor's note: This article was first published on November 20, 2008, back when caffeine-free energy drinks were practically non-existent. It has since been updated – most recently on March 13, 2019 – to reflect the many changes in the marketplace.]
FREE 5-Day Nutrition Coaching Course
I highly recommend enrolling in this totally FREE 5-part video series from Dr. John Berardi, one of the sharpest minds in sports nutrition and fat loss. You'll discover how to create a nutrition plan and follow through on it!
Just click play!
Levi Bloom is an experienced endurance athlete who has been training and competing for over 17 years. A former Cat 1 road and mountain bike racer (professional class on the regional circuit), he is now a cycling coach (USA Cycling Level 3 Certified) and sports nutrition coach (Precision Nutrition Level 1 Certified).