I strive to be as honest and transparent as possible. You should know that product reviews are not paid for, but I may earn a commission on products purchased through the links in this article. Learn more
here
.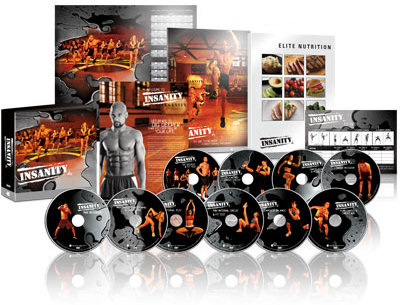 After a mediocre run with P90X (too much time spent working toward results I didn't need,) I decided to give Insanity a shot. Both of these workout programs are from Beach Body, but Insanity is very different from P90X.
Insanity is focused on cardiovascular fitness, while P90X is really more of a bodybuilding workout that's probably not the best choice for endurance athletes. Plus, Insanity is only about 60 days instead of 90, so it fits nicely within your off-season.
So in one way, it makes sense that this would be more applicable to endurance athletes who prize cardio over muscle size and strength. Yet at the same time, you have to wonder if it would be too much cardio, since you already train for that via swimming, biking, and running.
How do we get an answer? Join me – and a special guest client – as we review the program below!
Getting Started and Following Along
First, you've got Shaun T taking the reigns. If you're used to Tony Horton, you'll notice the different style of coaching/instructing. But both men seem right at home leading a fitness class. If there's one thing you can count on with Beach Body, it's that the instructor will be flawless.
I would say the camera work would be flawless, too, except that… it wasn't. Unless the cameramen were told to shoot some "insane" video! In that case, they did their job! In a few instances, the camera movements were real choppy. For example, within one shot, the camera might go on someone's feet and jerk up to their hands to show close ups of the movement. Most of the time you'll be working too hard to notice, but if you're going through slowly to learn the movements, you notice it. You'll often see other cameramen in the shot, too.
The videos were filmed in a gym (as in, a basketball court) rather than a small studio. This gives it that high school gym class feel.
I'll admit it's definitely more motivating than my lonely basement gym!
The Logistics: Is It Practical?
The best part about Insanity is how simple it is. No weights or gym equipment needed! Just grab some good workout shoes for cushioning and traction on whatever surface you're on, and get down to it!
That's a welcome change, because both the Insanity and P90X DVD sets are over $100. Add in the equipment you need for P90X and you're spending quite a bit more.
This also makes it much easier to do Insanity with a partner, which is much more motivating than doing it on your own. All you need is enough space to move around without hitting each other. With P90X, what do you do? Buy two sets of dumbbells and two pull up bars?
Of course, Insanity isn't always practical. I couldn't do it in my basement gym since the ceiling is too low for all the jumping. Nor could I do it in my apartment, where the jumping would drive my downstairs neighbors crazy.
Sure, all you need is space to move, but it has to be the right type of space!
What's The Time Commitment?
To take on Insanity, you'll be exercising six days per week for up to an hour each day. The first month, each day is in the 35-45 minute range. The second month, it gets tougher, so you're going about an hour per day.
Day 63 is your last workout.
So it's not a small amount of work! You'll finish the program sooner than you'd finish P90X, but you'll do almost as much work each day.
What's The Opportunity Cost?
As with any type of cross-training, you've gotta wonder if Insanity is worth your time. This program is going to require six hours of hard training per week. For many recreational cyclists working full time, six hours is all they can train per week, total. It wouldn't make sense to spend all your available training time doing something not directly related to your goals!
Along with that, you have to think about your recovery ability. Even if you have more than six hours per week to train, the intensity level of Insanity might require 100% of your ability to recover. In other words, you won't be able to handle any more workouts, even if you have the time.
Your opportunity cost is likely to be your sport-specific interval workouts. (Or resistance training, depending on the time of year.)
The good news is, you should still be able to fit in some sports training. Longer, easier rides, skills practice, hiking, or walking, for example. Just keep the intensity low. I'd also recommend some yoga and plenty of mobility work to help relax and stretch out after all the repetitive movements of Insanity.
(A buddy of mine once decided to take up running and do Insanity at the same time. He did it, be he also realized that he would have gotten more out of Insanity if he wasn't running, and would have improved his running more if he wasn't doing Insanity.)
Is Insanity The Ideal Workout For Endurance Athletes?
What should you be looking for in a cross-training workout? Generally, you want something that will improve your cardiovascular fitness, while also working your body differently than you do during sport-specific training (to prevent muscle imbalances and overuse injuries.)
If you're a cyclist, you definitely want something where you are NOT sitting down!
Well, during Insanity, you stand most of the time! It's full of calisthenics, bodyweight moves, and plyometrics. Think jumping jacks, running and jumping, and shuffling side to side. It's a great cardio workout, and you're moving your body in ways you never do when out for a run or bike ride. It will probably improve your agility and coordination, which are underrated skills necessary for cyclists!
So it's a good plan?
I would say yes. Especially compared to P90X, this routine is more in line with an endurance athlete's workout and physique goals (to get ripped and toned, rather than big.)
What about resistance training?
I like my athletes to do some type of resistance training year-round, and fit in more during the off-season. This is to improve bone density, correct muscle imbalances, and build pure strength.
Doing Insanity complicates matters, since it's so similar to what you were just doing during the season. However, while most of Insanity is fast paced cardio, not all of it is. Some of the exercises are strength oriented. For example, functional exercises like "moving push ups" where you change position between reps.
So yes, Insanity does include full-body resistance training!
And core training?
Core training, which is super important for good running and cycling form, is found throughout the program. Just look at all the planks, knee raises, leg lifts, kicks, and core twists.
Even the regular exercises hit your core. With the movement variations they do, just about every exercise brings the core into play significantly!
And you don't have to do any sit-ups or crunches!
When should you do Insanity, then?
Using it as off-season cross-training is probably the best bet. It definitely won't fit in during your race season.
Just make sure there's still some room in your off-season for some true strength training.
Insanity for fat loss?
If you can lose fat during the off-season, that's the best time to do it. And Insanity can help with that, since you should burn tons of calories doing it!
So, if combined with the right diet, you could definitely burn some extra fat and hit your ideal racing weight. At the very least, the calorie burning should prevent winter weight gain.
Is It Beginner-Friendly?
This is one tough workout. You want to be in decent shape before attempting it – if you have some athletic background, you should be OK. It's definitely not aimed at absolute beginners, though.
The good news is, the exercises themselves aren't terribly difficult, and there are no heavy weights. What happens is, the program might have you doing a move for 3 minutes… and you only last for 1 minute. That's alright, just keep at it.
So you can probably do the exercises, you just won't be able to do them for very long. With P90X, on the other hand, you might find something you can't do at all. Between the two, Insanity would be more beginner-friendly.
An Insanity Success Story!
One of my favorite clients decided she was going to do Insanity, so who was I, her coach, to say no?
That was a couple years ago, but Lauren graciously agreed to share her experience with everyone here. So without further ado, here are her thoughts on Insanity:
About Lauren: Female, age 23 when I first started doing Insanity two years ago (after a bit of a lull in my workout regime)
Previous workout schedules/programs: Lifting, running, various sports training
Fitness level when starting the program for the first time: Not good
Goal: To tone and get in shape again
"Back in the day" when I played sports competitively, my 'normal' workout included sports practices up to 6 days a week, lifting 3 days a week, with running mixed in (more for fitness, only occasionally for 'competition.') So years after leaving regular competitive sports behind, when I opted to try-out Insanity after far too long of a regular workout regime, I was enthused by the familiar, competitive, and consistent program schedule.
While I can't say there are 'easy' days, the program is well laid out to allow various muscle groups to rest (or just be worked less), while still getting a solid workout. There is one 'recovery' workout day built into the schedule; however, I found even that day to be difficult as it focuses on your core and requires a lot of control! (Both things I constantly strive to improve.) As with most workout programs, the full 'rest' day is much needed.
I personally like Shaun T as an instructor (and have tried a few of his other programs since being "introduced" to him through Insanity.) I find his style motivational enough, without being obnoxious. (However the background music is something that can drive you crazy!)
The first month, which you could do over and over no matter your fitness level and still benefit without moving onto month two, was perfect in regards to the time commitment. All workouts are less than an hour, with most around 40 minutes. In the second month, workouts are a bit longer (and of course harder,) but still a manageable commitment. However, Insanity is just that, a commitment. The full program is perfect for any level of fitness with any sort of goals – you can tone, maintain weight, gain weight, or lose weight doing Insanity. (As with all programs, your eating habits play a huge factor in which of those results you see!)
If you're looking to compete in other sports or fitness programs while doing Insanity, a huge factor is going to be your current fitness level. When I started Insanity for the first time I was playing soccer regularly. During that first week, I found myself 'watching' soccer from a playing position instead of making any sort of valuable contribution on the field! My legs definitely had lactic acid built up, and just overall soreness from not being pushed as hard in the weeks leading up to beginning. After the first week I started to get back into shape, and I was regularly able to recover quickly and participate in other activities. I admittedly was not in 'top' shape when I first started, so take that as a warning…
Overall, Insanity is a full body workout that I have done over and over. Sometimes it's just grabbing a disc and throwing it in for single workout, other times it's the full program from start to finish. I've taken my 'favorite' workout (Core Cardio & Balance) and set up my own workout program using just that disc.
Insanity can be for anyone, it's as hard of a workout as you make it. You have to want to do Insanity; it's not going to be the least bit enjoyable if you're not going to compete against yourself, against your previous results, against your co-worker-outers (that I highly recommend having.) If you challenge yourself, you'll love Insanity.
My final verdict is…
Truth be told, even if I had a good room in which to do this, I probably wouldn't dedicate 63 days to it. I'll pop in one of the DVDs on the occasional rainy day, but that's about it. I like to be outdoors, and even with Shaun T in front of me, I'm not going to be motivated to stick with the program.
You could certainly improve your cardiovascular fitness and core strength with Insanity, though, so if you need a challenging indoor workout, this is going to be one of your best options! Lauren approves!
Official website: www.BeachBody.com
Buy online: www.Amazon.com
Product Review Details
Company: Beach Body.
Product:
Insanity Workout DVD Set
Reviewed by:
Coach Levi
My Rating: out of 5
Date last updated:
2013-07-24
Obtained Product: Gift from friend.
CoachLevi.com Advertiser: Yes; paid affiliate.
Click here if you would like to get your product reviewed on CoachLevi.com.
Levi Bloom is an experienced endurance athlete who has been training and competing for over 17 years. A former Cat 1 road and mountain bike racer (professional class on the regional circuit), he is now a cycling coach (USA Cycling Level 3 Certified) and sports nutrition coach (Precision Nutrition Level 1 Certified).