It was an intense, energy-packed test, but it was fun, and I have finally finished my FRS Healthy Energy reviews. It sure took a lot of time (and money) to get everything tested in a variety of situations, but I have finished, and all my reviews are posted.
Here are all the individual reviews if you need to get caught up:
Now I will share my final opinions and findings…
FRS… does it taste good?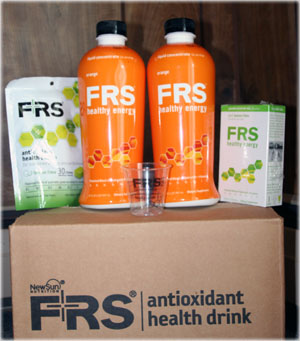 I wasn't necessarily surprised that FRS tasted pretty good, but I was surprised with the texture. Overall, FRS has more of a fruit juice taste and texture, unlike most all energy drinks. It still packed a punch, but FRS could be considered an "energy juice."
As I mentioned in the FRS liquid concentrate review, it tastes just like orange juice. It's exactly like if you mix up some frozen orange juice concentrate. It's a great drink to have when you get out of bed in the morning, especially if you like orange juice.
Also very much like juice were the FRS energy drink cans. This is the weird one, because the last thing you expect from a can is juice. But once I got over the weirdness of shaking a can without worry of the carbonation, I realized the canned drinks taste great. Well, at least some of them do. The all natural lemon lime was great, and the low cal wild berry was good. The orange and low cal peach mango were alright, but the one to avoid is the low cal orange.
Overall though, the cans provide the best taste and texture.
However, would you drink juice while riding? Or even right before a ride? I wouldn't. That's why I'm actually happy about the powdered drink mix and its thin texture. Since you mix it in water, it has a thin, water-like consistency that reminds me of basic sports drinks like Gatorade.
The powder doesn't mix perfectly, but it mixes pretty well, even in cold water. Of course there is still powder floating around and it looks a bit chalky, but it's easy to drink. I have no problem chugging a glass of it before I head out the door.
Even cooler for use during a workout would be the FRS health chews. These little "chews" look like Starburst candy and taste similar, although they are even closer to Airheads (the taste and texture is exactly like Airheads bars!) The flavors match the rest of the FRS line, so they're pretty good in their own right.
So in the end, I was happy with the taste of almost all the FRS products.
FRS… what about the energy boost?
Yes indeed, I can confirm there was a very nice energy boost.
First, let me emphasize (once again) that drinking FRS does not give you superhuman strength. And it probably won't give you enough energy to perform an extra set of sprint intervals.
Sure, it will give you the energy to workout a little harder and a little longer. But the real benefit is the all day energy. Normally if I do a long, hard workout under the hot sun, I'm forced to spend the rest of the day on the couch. Not so with FRS. Because even if my muscles are exhausted, FRS still gives my mind that much-needed energy.
When I use FRS, I can perform a hard workout, rest for a few minutes, and then (like magic) I still have energy to get through the day. That is what impressed me the most and is the #1 reason I'd recommend this.
But to get the energy, you have to choose the right FRS product for you…
I think the liquid concentrate is a good idea in the mornings, not only because it tastes like orange juice, but because it provides a light energy boost that lasts all day. I didn't notice an energy rush, but after using it, I never got tired during the day. (Especially if I had a couple energy chews later on during a workout.)
Drinking FRS from a can would probably be best for a time during the day when you need a boost. A can will provide plenty of energy and it's pleasant to drink. I'd avoid it during a workout, but it would work as a post-ride beverage.
Before or during a workout, I would go with the powder. The energy boost is great, and I also think it provides more of a psychological boost because it tastes more like a typical energy drink. Plus you can easily mix it in a water bottle.
If you need another boost, go with the energy chews. They give you a quick boost – there must be a lot of energy concentrated in that little square! If you have an FRS drink before a workout and then two of these during it, you'll be bouncing off the walls!
Really? It's good for energy? What about recovery?
No kidding here, it was a serious energy boost, all day long.
The one thing to remember is that I've only used this stuff for about a month. If I keep using it every day, who knows if it will give me the same energy boost in a couple years.
In my experience, any energy drink will feel the most powerful the first two times you use it. It happened with FRS, but the subsequent uses still provided me with lots of energy. (So I think I'll be happy for years.)
As you get used to FRS, and if it were to lose its appeal, take a little break, and come back to it. Who knows, you might miss it after just a day! I like to switch it up every once in a while anyway. Look at it this way – If I didn't try a variety of these energy drinks, I never would have found FRS!
As for recovery benefits, I'd agree it aids recovery, too. For light to moderate workouts when I have FRS during the day, I'll feel great the next day. If I have a super hard day, multiple hard days in a row, and/or lots of stress, I'll end up pretty sore still. But a day of rest and more FRS usually has me back on track.
FRS… is it actually healthy?
I was getting energy and other benefits, for sure. But is it worth going with FRS for the energy if it's not healthy?
Luckily I don't have to choose, because the all natural FRS offers the best of both worlds. FRS is packed with quercetin, catechins, green tea extract, fruit juice, B vitamins, minerals, and other goodies.
One minor drawback is that FRS contains caffeine. It doesn't contain much (usually equivalent to 1/3 cup coffee,) but I know some people who can't have caffeine at all, so they'll miss out on FRS. The added caffeine is there as a metabolic enhancer to aid in absorption of the other key nutrients in FRS, which sounds like a good reason, but something I might research some more.
(I thought with all the green tea already in there, why do they need the extra caffeine added in?)
But the one thing that does concern me is the use of the artificial sweetener sucralose. I try to avoid any artificial sweeteners, as they are chemicals and not sugars, so I prefer the all natural FRS formulas over the low-calorie ones. Although I'm in the small percentage of the population that will take the sugar and extra calories with joy!
My final plan for FRS is…
If you are looking for something to drink every day to improve your health and provide all-day energy, start your day with a glass of FRS orange concentrate. It gives you a subtle but long-lasting energy boost and it tastes like orange juice. That's what I'll be doing each day.
If you want a big energy boost from something that tastes like an energy drink, go with the FRS powder (I'd go with lemon-lime.) While the FRS concentrate and cans taste more like juice, the powder will make a drink that still tastes good but doesn't have that thick consistency like juice.
Want to avoid mixing anything? Get FRS straight out of the cans – the FRS cans offer good taste without the hassle, and they are available in a wider array of flavors.
Want to skip the juice altogether? Try the FRS energy chews, which are like little pieces of 'energy candy' that work great to fuel your bike rides, runs, and other workouts.
My own personal plan to get the most energy on a budget is this: drink a glass of liquid concentrate each morning, which gets me all day energy for $1.25 per serving. That way I avoid artificial sweeteners and don't spend too much.
Hopefully my reviews have helped you figure this out, but even better, you could try everything for yourself if you sign-up for the FRS free trial:
FRS link: www.FRS.com
Levi Bloom is an experienced endurance athlete who has been training and competing for over 17 years. A former Cat 1 road and mountain bike racer (professional class on the regional circuit), he is now a cycling coach (USA Cycling Level 3 Certified) and sports nutrition coach (Precision Nutrition Level 1 Certified).