I strive to be as honest and transparent as possible. You should know that product reviews are not paid for, but I may earn a commission on products purchased through the links in this article. Learn more
here
.
The good ole Powerbar Performance bar has been around since before I considered myself an endurance athlete.
But they made a recent update, adding a new variation to the Powerbar line – the Powerbar Energize bar.
Powerbar Energize
It still looks exactly like the Powerbars of old, except it comes in fruity flavors now. It uses Powerbar's new "C2 Max carbohydrate blend" and combines that with real fruit.
I really like this bar because it retains everything I liked about the standard Powerbar – very easy to chew and swallow while riding, packaging is easy to open and bar slips out without hassle, it's packed with carbs for energy with a little protein and very little fat which could slow digestion – but improves one quality…
That quality is the taste. Rather than the typical energy bar taste, the Powerbar Energize bar reminds me of Starburst and Airheads candies. If you crossed the Powerbar Performance bar and a bag of Starburst candy, you'd get the Powerbar Energize bar.
The only downside is that the price has gone up – it's nearly impossible to find these for under $18 per 12ct box. $1.59 isn't absurd, but I liked finding Powerbar Performance bars for $12 a dozen.
Keep reading for more details on this cool new energy bar…
Ingredients and Nutrition Facts
Here are a couple selling points from Powerbar:
Made with real fruit + 17 vitamins & minerals.
No artificial flavors, colors or preservatives.
42g of carbs and 6g of protein with 210 calories per bar.
And here is the ingredients list for the Creamy Citrus bar:
FRUIT POWERBAR C2 MAX CARBOHYDRATE BLEND (ORGANIC EVAPORATED CANE JUICE SYRUP, DRIED CITRUS BLEND [ORANGE PEEL, LEMON PEEL, SUGAR, CITRIC ACID], FRUIT PASTE [SUGAR, MIXED FRUIT JUICE CONCENTRATE FROM PEAR, PINEAPPLE, APPLE AND PEACH, APPLE JUICE CONCENTRATE, APPLE POWDER, GLYCERIN, WATER, PECTIN, LOCUST BEAN GUM], MALTODEXTRIN, DEXTROSE, FRUCTOSE), MILK PROTEIN ISOLATE, OATS, CANOLA OIL, NATURAL FLAVOR, CITRIC ACID, ANNATTO COLOR, SOY LECITHIN, SALT, ALMOND BUTTER, SOY PROTEIN ISOLATE, PEANUT FLOUR, MINERALS: CALCIUM PHOSPHATE, MAGNESIUM CARBONATE, ZINC GLUCONATE, FERROUS FUMARATE (IRON), COPPER GLUCONATE, CHROMIUM ASPARTATE, VITAMINS: ASCORBIC ACID (VITAMIN C), VITAMIN E ACETATE, NIACINAMIDE (VITAMIN B3), CALCIUM PANTOTHENATE (PANTOTHENIC ACID), VITAMIN B6, VITAMIN B2, THIAMINE HYDROCHLORIDE (VITAMIN B1), FOLIC ACID, BIOTIN, VITAMIN B12, ESSENTIAL AMINO ACIDS: LEUCINE, VALINE, ISOLEUCINE.
You've got your cane juice syrup, maltodextrin, and oats for calories (as carbohydrates,) fruit paste for flavor, some almond butter (a healthy source of fat,) soy protein, and then all the vitamins and minerals.
The ingredients list appears surprisingly healthy for a bar that looks anything but natural! I still would never choose one of these as a daily snack, but it's one of my top choices for fueling during bike rides and races.
Powerbar Energize Taste Test
The Powerbar Energize bar comes in three flavors: Creamy Citrus, Berry Blast, and Tangy Tropical. Here are my thoughts…
Creamy Citrus Fruit Smoothie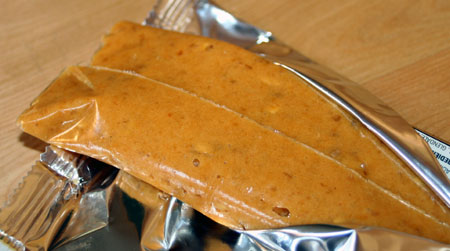 Creamy Citrus Fruit Smoothie – This is an awesome flavor! It does taste like a real fruit smoothie – like orange sherbet or something similar. It looks the part, too – the orange bar looks like a solid chunk of orange sherbet.
It is extremely sweet, though, so that may turn some people away.
Berry Blast Fruit Smoothie
Berry Blast Fruit Smoothie – This bar turned out to be pretty good, but it was more like a standard Powerbar; i.e. it was much different than the Creamy Citrus flavor.
The look was standard, too – it was a brown bar with chunks of red and blue. I think those chunks were real fruit, because I tasted a real strawberry chunk when I ate this bar. I could taste strawberry and blueberry, and I think raspberry (although I didn't see raspberry on the label.)
It's also a little bit like the pomegranate blueberry FRS chews. The taste and texture are similar. It's a good flavor that's worth a try, but I prefer the Creamy Citrus.
Tangy Tropical Fruit Smoothie
Tangy Tropical Fruit Smoothie – This is a very strong, sweet flavor. It starts off with the aroma of pineapple, and when you bite into it, you're greeted with pineapple, papaya, and mango flavors.
I like tropical stuff and really like this flavor, however, I would only eat one on occasion. It's so strong and flavorful I just wouldn't be able to handle it all the time! The citrus flavor is much more standard and more suited to regular consumption.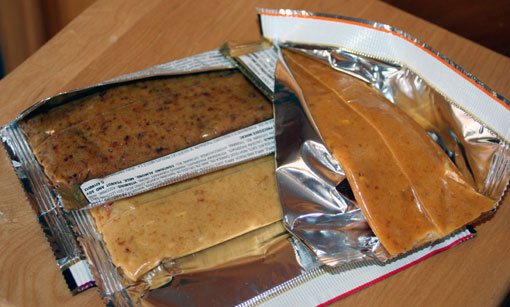 My final verdict is…
This is my #1, "go to" energy bar when it comes to performance training and racing situations. I love the taste, texture, packaging, and ingredients, so I highly recommend this bar if you need something to eat during intense events like road races and triathlons.
Go for the Berry if you want a standard, pleasant flavor, or choose the Creamy Citrus if you want a very sweet orange flavor. If you can handle the sweetness, opt for the Tangy Tropical.
Official website: www.PowerBar.com
Buy online: Amazon.com
Product Review Details
Company: PowerBar
Product:
PowerBar Energize Fruit Smoothie Bar
Reviewed by:
Coach Levi
My Rating: out of 5
Date last updated:
2009-08-13
Obtained Product: Purchased at retailer.
CoachLevi.com Advertiser: No.
Click here if you would like to get your product reviewed on CoachLevi.com.
Levi Bloom is an experienced endurance athlete who has been training and competing for over 17 years. A former Cat 1 road and mountain bike racer (professional class on the regional circuit), he is now a cycling coach (USA Cycling Level 3 Certified) and sports nutrition coach (Precision Nutrition Level 1 Certified).